I have
really
neglected this blog, thanks to a computer game I found in a bargain bin called 'Jigsaws Galore'. It has 200 puzzles in it plus you can make your own - lots of fun :D But I've been feeling the itch for a real puzzle lately so I thought I'd start one - then I saw that I had never posted this finished picture for this one.
So!
My last finished puzzle of 2012 - Kitty's Kristmas!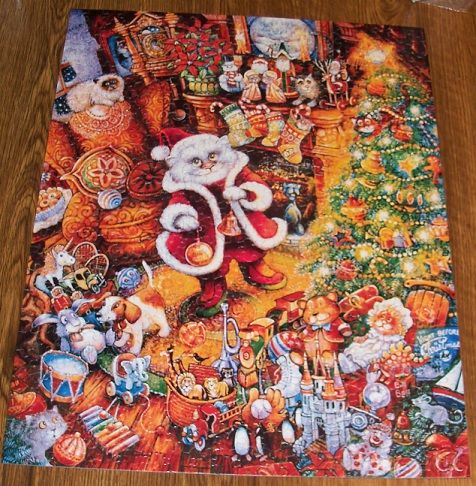 I think it was about 15x18 or thereabouts - it has long ago been taken back apart! This is not its actual name, but I cannot find the paper with the little pictures and titles. I think it was spelled oddly, though, so I went with this. It is the last of the set of Christmas puzzles I bought at a yard sale.
Tomorrow I will have a picture of the box for my new start - I haven't started it yet but Friday is supposed to be my day off ! ! !