On Father's Day, my Da likes to grill and then he falls asleep in his recliner :D It's become a tradition.
So since I'm currently hooked on puzzles, I decided at the last minute to grab one to take with me. I wanted a small one, but all I could think of that was small was some Christmas puzzles I bought at (yet another) yard sale. So I grabbed the box and this is what got done!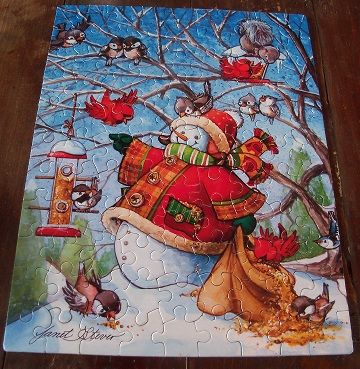 Feathered Friends, 100 Pieces - 7x9
Caroling Snowmen, 100 Pieces - 7x9
Winters Nap, 300 Pieces - 15x11
These were all just for fun - they took no time at all, really, and my sister found it
highly
amusing that I was working on Christmas puzzles in June. My mum had a good time too, stealing the last couple pieces and putting them in place, then declaring she had 'finished the puzzle' for me. LOL!
There are seven more puzzles in the set; I'm going to do them for a quick bit of fun between bigger puzzles, then put them all up for sale or trade. Meanwhile, the current 1000 piece project continues to go s-l-o-w-l-y, because I'm still on double shifts
and
I'm down to the last couple hundred pieces which all look exactly alike!